With Professor of Fordham university in the United States

Mr. Robert John Allison, Vice-Chancellor and President of Loughborough University visits Wiseway

At University of Michigan-Ann Arbor

Dr David Pilsbury, Deputy Vice Chancellor for International Development from Coventry University Visits Wiseway

Mr. Wang met Dr. Leonard Trudoat at University of Missouri-st.Louis

The Colleagues from University of San Francisco Visited Wiseway
More International Exchange
"Consumer Preferred Brand of Overseas Study Service Agency" in 2012

"Brand of the Year of Overseas Study Service Agency" in 2005

"National Top 10 Brands of Overseas Study Service Agency"

"National Five-Star Teams of Overseas Study Service Agency"

"Top 20 Most Reliable Overseas Study Service Agency"

"Top 10 Brands of Overseas Study Service Agency"
More Honors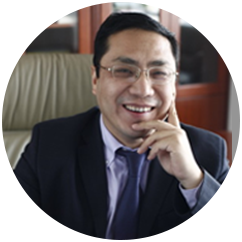 Mr. Wei Wang
Entrepreneur in International Education;
Wiseway Board Director;
Institute for East & West Int'l Education Principle and Board Member;
Member of American International Recruitment Council;
Member of Beijing Overseas-Study Service Association;
With ever increasing international education exchanges, scores of international education service agents dedicating to carving out a way for overseas studies have mushroomed since the Reform and Opening up Policies were adopted in China over 30 years ago. As a pioneer in this field, Wiseway has constantly committed itself to setting up an excellent platform for international education communication, attracting high-quality education resources into China while helping more talents study abroad, and share the rich and charming Chinese culture with the world at large. In the process of persistently exploring and finding the perfect pathways to overseas studies for Chinese and foreign students, Wiseway grows fast and has become a first-class brand of international education services agency.
With decades of consulting experience, hundreds of highly competent and seriously dedicated professionals, Wiseway has successfully advised and assisted tens of thousands of students with regards to their study abroad cases though countless consultation and discussion. By connecting with about 1,000 world-renowned universities, Wiseway has set up service networks covering first/second-tier cities in China as well as offices abroad. Relying on the strong and efficient network of domestic and foreign experts, Wiseway offers world-class professional services. Our professionalism, dedication and integrity are at the core for the satisfaction of our stakeholders. As a result, Wiseway has established long-term and stable partnership with many well-know universities in Asia, Europe, America and Australia. Supported by top China and foreign universities, Wiseway has developed a series of high-quality international programs, recognized by over 40 education institutions in Europe, America and here, in China. We thus enable Chinese students to gain early exposure and access to excellent education resources and opportunities both at home and abroad.
Wiseway has been highly spoken of by the Ministry of Education of PRC, the Commission of Education of Beijing Municipal Government and other authorities over the years. As a result of our track record of success in bringing Chinese students and foreign education institutions together, we have established a solid reputation as well as a strong visibility through positive reviews and the interest of major media such as Sina, Sohu, key industry publications and so on.
Being able to rise to our times' challenges with a sense of mission and responsibility, all members of Wiseway aim at delivering high-end professional services and adapting to our national and global stakeholders' needs. Our goal is to satisfy demands of students and relieve parents from their concerns. We firmly believe that by choosing Wiseway , students will be much more likely to walk on a path of global excellence, hence fulfill their dream for a more promising future.
More Message